GENESIS
FREEMOTION GENESIS ABDOMINAL
A standing ab machine has a very big advantage: Members can build core strength and balance while targeting six different abdominal muscles. The Genesis Abdominal has a simple, adjustable pad for the small of the back, while multi-position straps create user-determined tension. Less adjustment means more workout – and by adding a twist or side bend, people can hit upper, lower, and side muscles for a comprehensive, customized workout.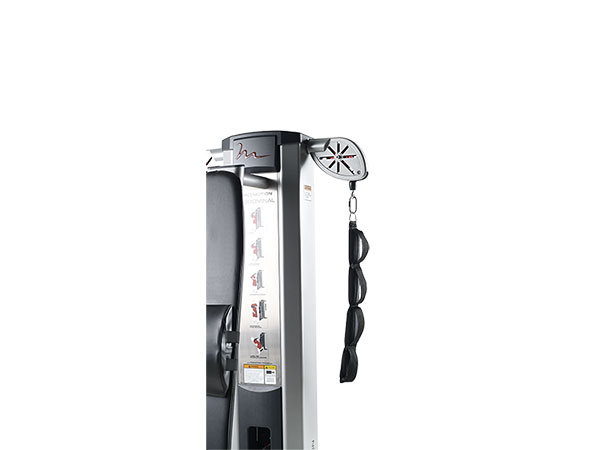 MOVE YOUR BODY
Freemotion's exclusive swivel pulley design ensures fluid cable travel and unrestricted range of motion.
DECLARE YOUR INDEPENDENCE
Arm straps move independently to create abdominal exercises and single arm movements to customize the workout.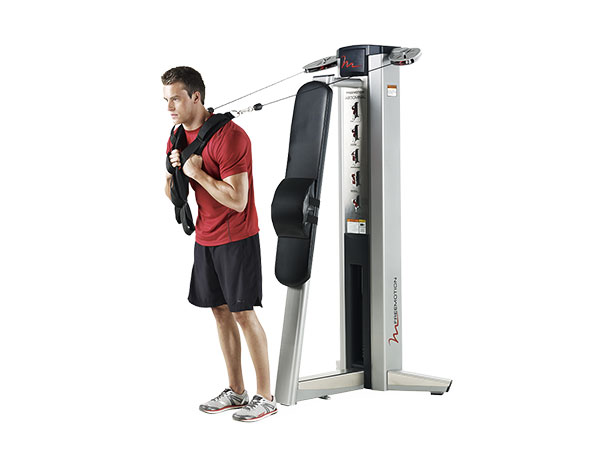 GO VERTICAL
The smart, standing position of this machine takes up less floor space and relieves stress on a member's back and neck.
SWIVEL PULLEYS
The pulley design creates fluid cable travel and an extensive range of motion.
ADA COMPLIANT
Proudly compliant with the Americans with Disabilities Act (ADA).
INDUSTRIAL CONSTRUCTION
Built with 11 and 7-gauge steel and electrostatically powder-coated, this machine is built to last.
INDEPENDENT ARM MOVEMENT
Unilateral arm straps move independently to create single or dual-arm exercises that build strength with
LUMBAR SUPPORT
This lumbar pad adjusts to various positions to fit people of all sizes.
VERTICAL DESIGN
Standing while using the ab machine can lessen stress on the neck and takes up less space at your facility.
WEIGHT STACKS
The protected, enclosed weight stack limits access to moving parts to better prevent accidents
KICK PLATES
Large, 16-gauge, stainless steel kick plates protect the machine from wear and tear.
PRODUCT SPECIFICATIONS
Standard Frame Colors
Platinum Sparkle, Red Baron, Black, White
Optional Frame Colors
On Request
Plastic Colors
Ebony
Standard Upholstery Colors
Black, Graphite, Blue Ridge, Burgundy, Red
Optional Upholstery Colors
On Request
Weight Stack lb (kg)
150 lbs (68 kg)
Weight Stack Configuration lb (kg)
5 – 50 x 5 lbs (2.2 – 22.6 x 2.2 kg)
60 – 150 x 10 lbs (27.2 – 68 x 4.5 kg)
Equipment Features
Instructional Placards
Yes
ADA Compliant
Compliant with the Americans with Disabilities Act (ADA).
Upholstery
1.5 in thick foam / Vinyl
Pulleys
Swivel pulleys
Cable Travel in (cm)
2 arms: 42 in (106.68 cm)
Rubber Feet
Molded floor protectors
Resistance lb (kg)
1 arm: 75 lbs (34 kg)
2 arms: 150 lbs (68 kg)
Equipment Dimensions & Weight
Product L x W x H in (cm)
34 x 36 x 77 in
(86.3 x 91.4 x 195.5 cm)