Until now, the dynamic of an indoor cycling class has essentially been limited to pedaling faster or slower. The RealRyder ® ABF8 adds a whole new range of motions that keep the mind more engaged and the body more active.
That's because the RealRyder ® ABF8 has a unique, articulating frame that allows it to steer, turn, and feel like a road bike. That side-to-side motion requires constant shifts of balance - continuous adjustments and corrections that correspond to a rider's movements on the road while encountering wind shifts, obstacles, and banked and curving surfaces.
The result is a unique 5-in-1 workout that improves not just legs and cardio, but also upper body and core muscles groups. What's more, the RealRyder ® ABF8 challenges - and improves - the rider's sense of balance.
More kinds of movement. More muscles used. More calories burned. The RealRyder® ABF8 provides a range of full-body exercise benefits that simply can't be approached by conventional indoor bikes.
Specifications
| | |
| --- | --- |
| Flywheel Weight | 66.1 lbs. (30 kg.) |
| Colour | Black frame, black shrouding, polished flywheel |
| Other | Two integrated water bottle holders |
Call us today on (01) 4019774 for further information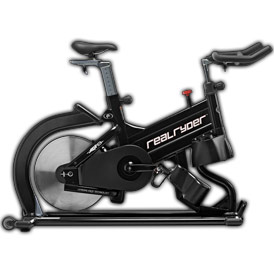 Dimensions

Length: 59"
Width: 31.5"
Seat Height: 41.5"
Weight: 222.7 lbs.
Brochure